100# Mini ASME, 200# & 420# Portables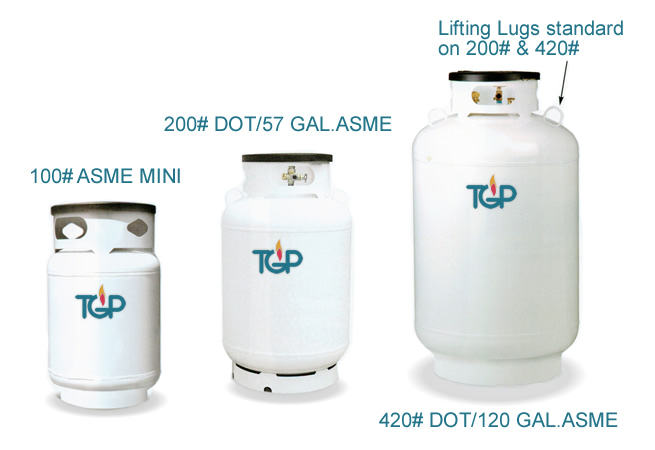 Product Data
Propane
Water
Length
Height
Diameter
Tare
Skid
Capacities
Capacity
OL
H
D
B
Weight
Quantity

Catalog No.

DOT

Lb

Gal

Lb

In

In

In
In

Lb




14205.3OHL

200# DOT 4BW240 Vertical Multi - Valve w/ Gauge

200

45.6

476

41.9

34.1

24

20.0

147

16

1499TC.200HL

420# DOT 4BW240 Vertical Quadrifitt Valve

420

95.9

1000

53.8

45.6

30

23.1

278

9

kg

Liter

kg

mm

mm

mm

mm

Kg

14205.30H L

200# DOT 4BW240 Vertical- Multi Valve w/ Gauge

90.7

172.9

256.7

1064

865

610

508

66.7

16

1499TC.200HL

420# DOT 4BW240 Vertical - Quadrifitt Valve

190.5

363.0

453.6

1366

1159

762

587

126.1

9

Catalog No

ASME

Lb

Gal

Lb

In

In

In

mm

In

68143HL

28.61100ASME MINI Vertical - 250 PSI 2 hole w/Gauge

100

22.9

238

37.1

29.8

18

15.5

85

20

6765.5HL

57 ga (200#) ASME Vertical 250 PSI Multi Valve w/ Gauge

200

45.6

476

41.9

34.1

24

20.0

188

16 _

6762.8HL

120 gal. (420#) ASME Verticall- 250 PSI Quadrifitt Valve

420

95.9

1000

53.8

45.6

30

23.1

291

9

kg

Liter

kg

mm

mm

mm

mm

mm

68143HL

28.6 (100#) ASME MINI Vertical - 250 PSI 2 hole w/Gauge

45.4

86.6

108.3

942

756

457

394

38.6

20

6765.5HL

57gal. (1200#) ASME Vertical 250 PSI Multi Valve w/ Gauge

90.7

172.9

256.7

1064

865

610

508

85.3

16

6762.8HL

120 gal. (420#) ASME Vertical 250 PSI Quadrifitt Valve

190.5

363.0

453.6

1366

1159

762

587

132.0

9
DOT VS. ASME COMPARISON
Both DOT and ASME 200# & 420# cylinders can be transported with 80% of total container volume.
The weight of an ASME 420# is 13 lbs. more than a DOT 420#. This thicker steel provides the customer greater longevity of the 420# assets.
ASME code does not mandate a retest period. DOT retest periods are 12 years after manufacturing, then each 5 year period thereafter.
State-of-the-art powder coating system cylinder finish, called "Armor Clad II - THE NEXT GENERATION," which improves the durability of the tank by 150%!
Vacuum Pre-purged tank saves in the cost to prepare a tank for customer
HDPE (High Density Polyethylene) Lids. Extremely durable rust-proof and dent-proof. So reliable, they come with a 10 year guarantee!
Plus, they survived a drop test of 12 foot lbs.
at temperatures as low as -40 degrees Fahrenheit!