Aluminum Forklift Cylinders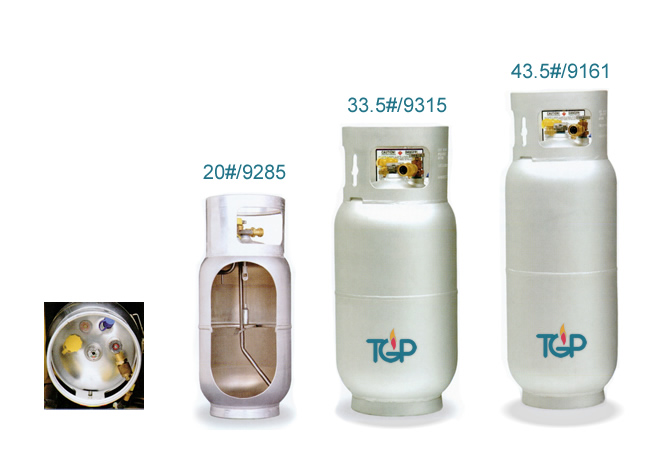 Product Data
Propane
Water
Length
Height
Diameter
Tare
Skid
Capacities
Capacity
OL
H
D
B
Weight
Quantity

Catalog No.

Description

Lb

Gal

Lb

In

In

In
In

Lb

9300

20# VAPOR W/GAUGE - NO FILL VALVE

20

4.6

47.6

20.4

14.9

12.3

9.5

17

48

9305

20# VAPOR W/GAUGE & FILL VALVE

20

4.6

47.6

20.4

14.9

12.3

9.5

17

48

9290

33.5# LESS FILL, LESS GAUGE

33.5

7.4

80.0

28.3

22.4

12.3

9.5

24

36

9310

33.5# LESS FILL WITH GAUGE

33.5

7.4

80.0

28.3

22.4

12.3

9.5

24

36

9315

33.5# WITH FILL VALVE & GAUGE

33.5

7.4

80.0

28.3

22.4

12.3

9.5

24

36

9317

33.5# NO GAUGE OPENING, WITH FILL

33.5

7.4

80.0

28.3

22.4

12.3

9.5

24

36

9161

43.5# 5 HOLE W/SIGHT GAUGE 81 FILL VALVE

43.5

9.9

104.0

33.9

28.8

12.3

9.5

25

24

9162

43.5# 3 HOLE NO VAPOR AND SIGHT GAUGE

43.5

9.9

104.0

33.9

28.8

12.3

9.5

25

24

9163

43.5# 4 HOLE LESS SIGHT GAUGE

43.5

9.9

104.0

33.9

28.8

12.3

9.5

25

24

9164

43.5# 5 HOLE LESS FILL WITH SIGHT GAUGE

43.5

9.9

104.0

33.9

28.8

12.3

9.5

25

24

Catalog No.

Description

kg

Liter

Kg

mm

mm

mm

mm

Kg

9300

20# VAPOR W/GAUGE - NO FILL VALVE

9

17

21.6

518

379

312

241

7.7

48

9305

20# VAPOR W/GAUGE & FILL VALVE

9

17

21.6

518

379

312

241

7.7

48

9290

33.5# LESS FILL, LESS GAUGE

15.2

28

36.3

717.6

569

312

241

10.9

36

9310

33.5# LESS FILL WITH GAUGE

15.2

28

36.3

717.6

569

312

241

10.9

36

9315

33.5# WITH FILL VALVE & GAUGE

15.2

28

36.3

717.6

569

312

241

10.9

36

9317

33.5# NO GAUGE OPENING, WITH FILL

15.2

28

36.3

717.6

569

312

241

10.9

36

9161

43.5# 5 HOLE W/SIGHT GAUGE & FILL VALVE

19.7

37.5

47.2

862.1

732

312

241

11.3

24

9162

43.5# 3 HOLE NO VAPOR AND SIGHT GAUGE

19.7

37.5

47.2

862.1

732

312

241

11.3

24

9163

43.5# 4 HOLE LESS SIGHT GAUGE

19.7

37.5

47.2

862.1

732

312

241

11.3

24

9164

43.5# 5 HOLE LESS FILL WITH SIGHT GAUGE

19.7

37.5

47.2

862.1

732

312

241

11.3

24
Quick Coupler installed on all Forklift Cylinders.
Cylinders are inspected and vacuum pre-purged.
Cylinders can be stamped with your company name at no extra charge for quantity orders.
Our forklift cylinders have Lifetime Warranty on dip tubes.
Permanently positioned relief valve with a clear path to the outside of the cylinder. No adapters, which can be lost or misdirected, are needed.
Foot ring designed to withstand high impact.
Stackable for increased capacity on your trucks.